Clinical Research Nursing has been acknowledged as a specialty, that is good news for all of us!
Sometimes under all the pressure and targets, you forget to acknowledge all the great things you do…well I am here today to remind you that you quite simply rock.
Stop for a second to think about all the things you learned since working in clinical research:
You've learnt about TMFs, ISFs, CRFs & SDVs
You learnt new laws and regulations: HTA, MCA, Medicines for Human Use, Data Protection Act & EU Directives
You learnt some science
You leant the real meaning of informed consent, and that a robust informed consent takes time
You probably thought deeply about the ethical principles of research
You learnt to balance a centrifuge, pipette with no air, and some may even be able to identify the 'buffy coat'
You learnt to package dry ice without putting your courier's life at risk
You learnt to use encrypted USB sticks
You learnt to ask nicely…and sometimes desperately for an urgent MRI or CT scan
After your first inspection, you learnt to take pride in maintaining site files. To the MHRA, that file is a reflection of the quality of your work.
You've probably learnt to have your voice heard in meetings and circles where you may not have ever spoken before
You have developed your PR, your marketing & your public speaking skills
…and you have redefined assertiveness for yourself.
As things continue to change, you continue to learn, adapt and create anew.  Part artist and part octopus you manage so many things on so many levels…Every. Single. Day.
At any one time you are incorporating regulations, ethics and deadlines while keeping your patient's safety and wellbeing your main focus and ultimate goal.  You organise, prioritise and deliver what is needed to maintain integrity of your study all while thinking of the holistic care of your patient that is not only navigating the pathway of illness but also the extra demands of being a research participant. This takes both knowledge and skill.
This year the American Nurses Association (ANA) acknowledged Clinical Research Nursing as a speciality, yes what you do is every day requires specialist knowledge and specialist skills.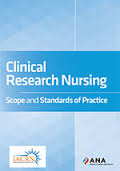 The scope of clinical research practice covers:
Populations Served
Practice Environment
Roles and Practice Domains
Principles that Guide Clinical Research Practice
Professional Nursing Ethics in CRN Practice
Educational Preparation
Continuing Professional Development
Specialty Practice Certification
Trends and Issues
The standards of practice for clinical research are listed as:
Assessment
Diagnosis
Outcomes Identification
Planning
Implementation
Evaluation
And the Standards for professional performance for clinical research are:
Ethics
Culturally Congruent Practice
Communication
Collaboration
Leadership
Education
Evidence-based Practice and Research
Quality of Practice
Professional Practice Evaluation
Resource Utilisation
Environmental Health
Whether you are a nurse or a practitioner working in clinical research, your specialist knowledge and skill set has been acknowledged…so go ahead and celebrate (something we do not do nearly enough). This really is a great achievement so go ahead and treat yourself to that extra fancy coffee with chocolate on top.
Congratulations, well done you!
This acknowledgement of clinical research nursing as a speciality by the ANA is thanks to the work of the International Association of Clinical Research Nurses (IACRN) who compiled the scopes and standards of practice for clinical research nursing and submitted this incredible body of work to the ANA for review.  You can order your own copy of the Scopes and Standards of Clinical Research Nursing here.
2 Responses to Clinical Research Nursing has been acknowledged as a specialty, that is good news for all of us!
← Decision making by Research Ethics Committees (Part 2) – Risks to research participants
Patient and public involvement: Why patients are important not only as participants but as partners in developing research. →